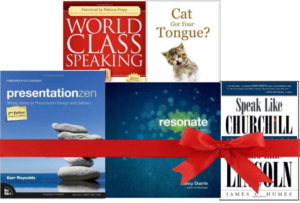 With the holidays fast approaching, you may want to gift yourself a book on public speaking skills.  I've read many books on public speaking, but only a few more than once. Consider adding to your library (physical or ebook) one of the 5 books on public speaking that I own and have read more than once:
1. Speak Like Churchill, Stand Like Lincoln: 21 Powerful Secrets of History's Greatest Speakers by James C. Humes.  This book is packed with practical tips (like the "power pause") gleaned from leaders in history.
2. World Class Speaking: The Ultimate Guide to Presenting, Marketing and Profiting like a Champion by Craig Valentine and Mitch Meyerson.  By reading this book, an aspiring professional speaker can learn both speech creation  and speech marketing techniques.
3. Resonate: Present Visual Stories that Transform Audiences by Nancy Duarte. This is a gorgeous book that beckons you to study its concepts with engaging visuals and examples.  I found the section on the Hero's Journey to be most useful as it made me consider the audience as the hero and me as the guide.
4. Presentation Zen: Simple Ideas on Presentation Design and Delivery by Garr Reynolds. This is the book that inspired me to have simple, clear and beautiful PowerPoint slides.
5. Cat Got Your Tongue? Powerful Public Speaking Skills and Presentation Strategies for Confident Communication or, How to Create the Purrfect Speech by Diane Windingland. Yes. I wrote this book and I still refer to it!  As a special gift to you, the ebook version is free through Saturday.  Get it now!
Gift yourself a book on public speaking!