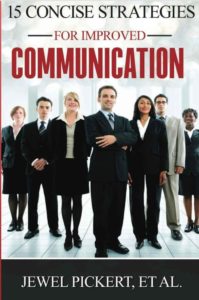 "Whether you are a beginner or have reached a roadblock, this book speaks to busy professionals who want concise communication strategies for work, public speaking, and social situations.  These strategies include how to manage stress, conquer fear, communicate like a leader, sell, listen, evaluate and think critically."
So starts the back cover of 15 Concise Strategies for Improved Communication, a collaborative effort of 12 authors, all members of PowerTalk Toastmasters. Yes, I am a contributing author, with a short chapter, "Virtually Speaking: Presenting Online."
Not only can this book provide you some nuggets of communication insight, it can also serve as inspiration for the budding author within you.
The driving force behind the book, Jewel Pickert, had never published a book, and taking on the task of trying to coordinate a collaborative effort added an additional layer of challenge. I told her right up front that I wasn't a fan of books with several authors, but having self-published a few times, I provided some initial direction, and she shepherded the process, learning many skills along the way.
It was a win-win situation! The contributing authors are now published authors, if they weren't before. Jewel, with her new-found experience, already has three additional books in the works! Having published works will increase professional credibility, and might garner some income, both from book sales and from possible speaking engagements.
Get the book and consider how you might either collaborate or write your own!