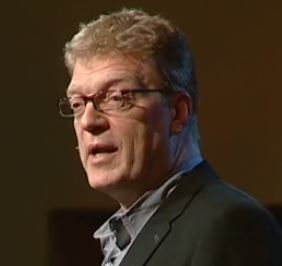 TEDTalk countdown: the #1 most-watched video on TED.
The Big Idea:  "Creativity now is as important in education as literacy, and we should treat it with the same status."
The overall construct of the speech:  Loosely persuasive, using humor and stories/examples to increase receptivity for his message.
Not perfect: 
Some digressions. This was the sort of speech that is much more engaging if you don't try to outline it.  While it all flowed, it sometimes digressed. He was masterful, however, at segueing in and out of his digressions.  For example, he talked about moving from Stratford-on-Avon to Los Angeles as a way to segue into two stories, one that somewhat related to his topic, and another that didn't (but both were funny).  In the first story, he had the audience imagine William Shakespeare as a seven year old.  In the second story he told about his son's displeasure with moving to America.  He ended that story with " . . . she was the main reason we were leaving the country." And moved on to making his point.  "But something strikes you when you move to America . . . "
Verbal fillers— In the first two minutes alone, he had about 15 short "uhs."    Because they were so short, they were not highly noticeable.  However, with a little awareness, it is easy to reduce the quantity of uhs.
Black suit with a dark background (from the front angle).  Men have fewer fashion choices than women, but a black suit blends in with a darkbackground.  A dark gray suit might have been a better choice.
What he nailed:
A message that resonates.  This talk, as the most-viewed talk on TED, clearly resonates with many people.  Viewers likely feel the pang of regret for their own (or a loved one's) education because "the thing they were good at at school wasn't valued, or was actually stigmatized."  And, if viewers have children in their lives, or simply care about the future, the message both calls for change and inspires hope.
Humor.  Ken Robinson has a natural, somewhat dry humor, one that bubbles up with apparent effortlessness.  In his  19.5 minute talk, there were 22 laughs.  His first five laughs came from self-deprecation.  For me, his British accent enhanced the humor.
Ten seconds in to his talk:  "Good morning. How are you? It's been great, hasn't it? I've been blown away by the whole thing. In fact, I'm leaving." (Laughter)
Less than a minute later he gets the next laugh: "If you're at a dinner party, and you say you work in education — actually, you're not often at dinner parties, frankly, if you work in education. (Laughter) You're not asked. And you're never asked back, curiously. That's strange to me. But if you are, and you say to somebody, you know, they say, 'What do you do?' and you say you work in education, you can see the blood run from their face. They're like, 'Oh my God,' you know, 'Why me? My one night out all week.'"(Laughter)
Started with humor.  Ended with heart.  Although there were 22 laughs in his talk, there were none for about the last three and a half minutes.  The last portion of his talk ended with a moving story about a little girl who couldn't sit still in class and then, a call for change.  The humor relaxed people and made them receptive. The moving story took people out of their heads and moved their hearts.  Humor to heart to message—an effective pattern, as long as the humor and the heart-story are relevant to the message.
Use of Stories/visual examples:
Being an educator at a dinner party
Little girl drawing God
Son's Nativity Play
Shakespeare as a child
Moving to Los Angeles/teen son
Aliens view of education
Disembodied professors
Wife cooking vs. him cooking
Story of Gillian Lynne
Use of dialogue:
He didn't just narrate his stories, he had his characters use dialogue, which made the stories come alive.  For example, instead of just having the audience imagine a seven year-old William Shakespeare, he acted out how Shakespeare's father might have talked to him:  "'Go to bed, now,' to William Shakespeare, 'and put the pencil down. And stop speaking like that. It's confusing everybody.'"
Referencing other presenters:  While the video audience might not have appreciated his references to other presenters at that particular TED conference, his live audience surely did.  By referring to other presentations, he connected his talk with the entire event and created a stronger common bond with his live audience.
Memorable statements:
My favorite: "If you're not prepared to be wrong, you'll never come up with anything original."
The Big Take Away:  Start with humor.  End with heart.