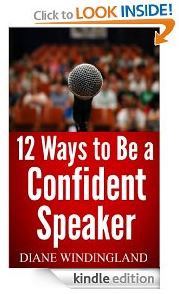 If you've enjoyed my recent tips on becoming a more confident speaker, you will want to get your 
FREE Kindle book
, 
12 Ways to Be a Confident Speaker
.  But, hurry! The book is only free through Saturday (and after that, it is available for only $2.99–It's a short book!)
And, I have a BIG favor to ask you!
Will you post a review on Amazon for the book? 
Reviews are critical for helping people decide to buy a book.  I'd really appreciate it if you could do this for me.