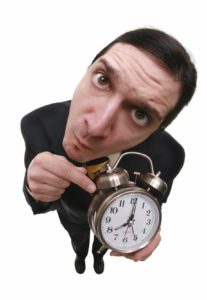 A speech is like a woman's skirt: it needs to be long enough to cover the subject matter but short enough to hold the audience's attention. ~Author Unknown
I'm not sure which is worse, a speaker who is oblivious to the fact that he or she has gone overtime or one who realizes it and keeps talking anyway, often trying to cram 15 minutes of material into 3 minutes.  All I know is that I don't want to be one of those speakers.  Neither do you, right?
Here are a few tips to help you stay within your time:
1. The Technical Approach.  Figure out your WPM (Words Per Minute).  Pick something conversational to read that's about half a page long.  Ideally, it would be your speech!  Count the words (or cut and paste it into a MS Word Document and get an automatic word count).
Time yourself reading the selection in a conversational manner (the stopwatch feature of a phone works well).  Then divide the number of words by the time in seconds.  Multiply by 60.  That's your WPM.  Do this a couple more times, with different selections and average the WPM.  That's your ballpark WPM.  Then, to figure out approximately how many words long you need your speech to be, you just multiply your WPM by the length of the speech (in minutes).
For example, this article has 514 words.  I timed myself reading for 3:20 minutes, which is 200 seconds.
(514 words/200 seconds) X 60 seconds/min = 154 WPM  (the average rate for an American speaker is 150 WPM).
Let's say I want to give a 10 minute speech.
My estimated word count is 154 WPM X 10 min = 1540 words.  So, if I write a speech of approximately 1540 words, then it will be about 10 minutes long.  However, it may be longer or shorter depending on pauses, rate variations, and use of humor.  Better to err on the side of being a little short.
 2. Write a Flexible Speech.  Sometimes you get more or less time than you were told. Have a plan for adding or removing material on the fly, to meet time requirements.  You can add or subtract examples, stories and sometimes activities or a Q&A session.  Whatever you add or subtract, still end with your strong conclusion (which should come after a Q&A session).
 3. PRACTICE. Time your speech while practicing.  Obvious, right?  But a lot of people don't do it!  Do remember that if you say something funny, you need to allow time for people to laugh.  Don't "step on the laughs" just because you are long on content and short on time.
4. Time your speech while presenting. Use your own timing device, if possible.  But, be discreet about looking at the time.  I use an app for my iPhone called Presentation Clock. As I get close to my ending time the colors on the large numbers change from green to yellow to red.  You could also ask someone to time your speech.
Do you have some tips for staying within time limits?