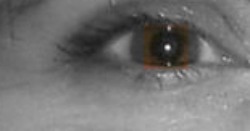 Eye contact is the number one way to increase your engagement with an audience.  A few additional benefits include:
Increased credibility (people who don't make eye contact seem nervous and possibly dishonest)
Reduction in crutch words (um, uh, er).  I've noticed that people are more likely to use crutch words when they look up or off to the side as they gather their thoughts.  Ever notice that people don't say "Um" or "Uh" as much in conversation?
You will sound more conversational and, if you tend to talk too fast, you probably will slow down a little.
Your presentation will be more powerful.
Feedback from audience–people tell you a lot with their eyes!  You can adjust your presentation more easily if you make eye contact.
The MAIN THING to remember:  Talk to one person at a time.
Think of every presentation as a conversation.  You make eye contact when you talk with individuals, don't you?  Your audience, whether it is 10 or 100 is made up of individuals.
If you just scan the audience (or worse yet, look just above their heads), you not only don't gain the benefits of eye contact, but you also risk looking like an oscillating fan!  Sure, you can try to look at everyone, but you probably won't connect with anyone if the group is large.
Here are 3 tips that you can use right away:
1.  Look into the eyes of one person for a complete thought (usually a sentence) before you move on to another person.  Connect with a few people sitting next to each other and then, slowly work your way around the room, connecting with a couple of people to your left, middle, right, front and back.  Don't jump around or try to do this in any particular pattern.
Baby step:  Consciously try it for at least the first 3-4  sentences of your speech, and at the end.  You can expand on the skill on future speeches.
2.  If you are using notes, drill this phrase into your brain:  Talk to People NOT Paper.  Look at your notes to snatch up your next phrase or two, but DON"T talk while looking at your notes.  Look up and then talk.  Double space your notes.  Put then in a larger font (at least 14), or better, yet, reduce your notes to key word notes.  More on that in the next tip!
3.  Practice with a "fake audience."  Take a few sheets of paper and draw crude faces on them (actually all you need is the eyes).  Tape them up on the walls, at seated eye level.  Then, practice your speech, looking into the "eyes" of your audience.
Have you found other ways to improve your eye contact?